Services for October 2018:
There will be a service most Sunday mornings at 11.15 am.
7

October
The Minister

– HARVEST FESTIVAL

*

14 October

The Minister– Heritage Weekend

21 October

Betty Kenyon

28 October

Val Chamberlain
* HARVEST FESTIVAL- We are holding our Harvest Festival on 7th October. Everyone is very warmly welcome. If you would like to bring a harvest offering, please consider bringing something tinned or in a packet so that it can be added to our Foodbank donations. If you would also like to bring something decorative, autumnal, or harvest-themed (be that flowers, a decoration, or a more traditional harvest offering of vegetables or fruit), that would also be warmly welcomed, and any food will either be made into soup for the congregation to share at a future event or donated to the Bury Homeless Project.
INTRODUCTORY BOOKLET:


A FAITH WORTH THINKING ABOUT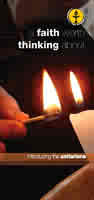 click here for a free download