Services for March 2020:
There will be a service most Sunday mornings at 11.15 am.
Sunday

March 1st
The Minister, with Marta Pacini, Anand Ennis-Cole and Sri Ramana Devi.

Following this service there will be a retiring collection to sponsor trees in a new Peace Forest in Rossendale.




SundayMarch 8th

The Minister followed by Second Sunday Lunch

Sunday

March 15th

To be confirmed.

Sunday

March 22nd

The Minister – Mothering Sunday

Sunday March 29th

he Minister,

The Minister – service will be followed by Communion. All welcome.
INTRODUCTORY BOOKLET:/b>


A FAITH WORTH THINKING ABOUT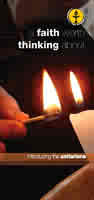 click here for a free download